Now with Alesis, you can get a drum that is both high quality and affordable. When it comes to quality e-drum sets, features and affordability are the most crucial things to consider.
Alesis recently released the Strike Pro SE to meet the demand of many drummers. The kit comes with beautiful looks, and the shells are sized no less than acoustic drums would be.
Cheaper than other Roland drum set with the same features
Beautiful looks
Solid and sturdy rack
Decent sound module
Beautiful LCD screen display (3 full-color)
Realistic kick drum
Fantastic tom pads
USB/MIDI ports
SD card compatible
Triple-zone ride
The hi-hat and piezo lack quality assurance
There is limited effects engine
No dedication to audio interface
The software editor could use some work
Needs a firmware update
No kick pedal
It comes with a bigger kick drum, varying mesh heads, and an upgrade on the hi-hat.
It is no secret that electronic drums are slowly and surely becoming popular over the years. But some drummers still wonder whether they are worth the money.
And perhaps this one of the reasons Alesis put so much time into this one. Looking at its appearance and general features, you can tell there is a lot of thinking, planning, and investment that goes into the kit.
They aimed at creating a real professional e-drum set that would perform at the same level as quality acoustic drum kits.
But have they achieved this goal?
In this review, I will take you through some of the features I think stood out in this kit. Come along.
Alesis is one of the top manufacturers of electronic drum sets.
The Alesis Strike Pro is a professional e-drum kit carrying four tom pads, a snare pad, a kick pad, four crash cymbals, and a hi-hat controller.
The pad is nylon mesh, which is standard for modern electronic kits.
This kit is the higher-end model of the Strike, although there are other kits by the manufacturer that are identical in many ways.
The kit also comes with the Alesis Strike Pro module that has a sleek design, faders, and an LCD. It also has control buttons and 1600 multi-sampled instruments.
As stated above, the Alesis Strike Pro features in the high-end e-drum category from the company. It is a solid drum kit that comes fully equipped with every professional drummer's needs.
The drum kit itself is a bit large. On one hand, this is a good thing because it looks just like a traditional drum set. But on the other hand, you may need a longer time to set it up before playing.
The box in which the Strike Pro comes is very heavy. Therefore, you may want to unpack it separately from outside before carrying it up the stairs.
Alesis has invested a lot of time into this one. It serves every drumming purpose, from home practice to live stage performance. You can also record your sounds right from home.
This electronic kit seems to have the full package, but let's take a closer look at what comes inside.
We can all agree this drum set is pretty solid.
In the box, you get:
Alesis Strike Pro
One 14 inch kick drum pad
One 14 inch dual-zone snare pad
Four dual-zone toms; 8 inches, 10 inches, 12inches and 14inches
One 16 inch triple-zone ride, two 14 inches dual-zone crash, and one 12 inch hi-hat cymbals.
A strike drum module
Hardware: Chrome rack, a pair of drum sticks, cable snakes and wraps, drum key, power supply, and an assembly guide.
Unfortunately, you will have to buy your own kick pedal and hi-hat stand. I can live with the kick pedal missing, but I think they should include the hi-hat stand.
The mesh heads are great and are suitable for beginners. The drum heads look amazing, especially for an electronic set. Most electronic sets look tacky but this one comes in style.
The chrome rack is pretty sturdy making it easier to rigorously practice on the drum kit. The crash cymbals are immensely realistic. You feel like you're playing a real drum set whenever you hit them along with the kick drum.
There are two categories of the Strike kit; eight-piece and eleven-piece kit. The eight-piece is way cheaper, but it has only one crash cymbal and three toms. But it is still great for those looking for a simple and more portable setup. Also, you can upgrade it to the Pro version anytime you wish.
Features of the Alesis Strike Pro Kit
Alesis has really tried on this one. I couldn't help but notice some of the best features of the kit was its flexible playability.
The drum module
I was very impressed with the module right from the start. It has a beautiful design and features most of the bells and the whistles that come with the TD-50.
There are 100 new drum kits with more than 1,600 multi-sampled instruments. This brings more realism in the drums.
For instance, the snare can be lightly tapped from a mix of different samples than beating the drum with full energy. This eliminates that machine-gun-like sound, making it greatly realistic.
I never liked the Alesis drum kits before as their entry-level drum kits don't come with such technology. More so, they don't sound as good.
The LCD screen is installed with nice visuals of each kit. You can get all the information about the presets. I found it better than the TD-50 series because of its high responsiveness.
A great LCD screen display is part of what makes an electronic kit unique compared to an acoustic kit.
Also, the module carries an 8GB SD card on which you can lead new samples and sounds. The USB/MIDI connections are wonderful if you are looking to use virtual instruments with a DAW.
It comes with snake cable, each with a labeled end for the respective pad. You can connect the module easily with the pads.
Besides, Alesis has unveiled the Strike Software Editor. With this, you can easily create new kits on your PC, rather than using knobs.
Big shell sizes
Many electronic drums are known for being small and compact. For instance, the Alesis pro is very small and portable. But these can be a big problem when you want to transition.
The Alesis Strike Pro kit has the same features as the regular shell size. And I have become a big fan of this because I hate the small drum pads.
The shells are made from wood. This is why we say; the Alesis Strike Pro kit is in so many ways, like a standard acoustic drum set.
They feature a beautiful red sparkle finish, which is pretty impressive.
You can only find such 'real' drums with V-drums or ATV Artist standard drums. And this is where Alesis has really made it.
The feel
Well, considering the size of the pads, the Alesis Strike Pro feels a lot more like an acoustic kit. Also, the size plus the mesh heads make things even more interesting.
The response is excellent. I never liked the false feeling that mesh heads give, but with this one, I have changed my opinion. It might be the best strike performance module out there.
The kit comes with adjustable tension. So, it is not too bouncy and not too rigid. It's just the right amount.
The only other way you can come close to this feeling is perhaps if you convert an acoustic kit into an electronic drum kit. But that would require you too much time.
The whole point is you want the drum kit to feel like a real drum set, rather than converting it into one.
The mesh heads are great for accurate zone striking.
Excellent drum pads
Alesis thought outside the box with the addition of the 14-inch dual-zone snare drum pad. I don't enjoy small pads myself because I love to enjoy the feel of a real drum.
All drum pads are dual-zone. Therefore, you can play independent sounds from the center and the edge. This brings out another level of realism you will not get in many entry-level kits.
Better yet, you can tune the drum pads. This is one of my favorite features as it allows me to increase or decrease the responsiveness of the mesh. This makes the e-drum sound like a real drum kit. The only bummer is that there's no kick pedal to make it a more complete electronic kit.
The cymbals
At first glance, you will not fail to notice the neat 'hammered' look of the cymbals. They are just like the traditional hand-hammered ones, offering a beautiful touch.
And the bell comes in a large size, which you can play different accents while performing. The cymbals can also be choked.
I was not impressed that the cymbals have only one size with the piezo. It must face a certain direction, with the logo facing the opposite direction.
Even so, there are locking washers under the cymbals, which keeps them straight. But still, the crash seems to misfire whenever the drumsticks slightly miss the zone of the piezo.
The Alesis Strike Pro comes with a triple-zone ride, something you can only get in higher-end electronic drums. You can hit the bell, bow, or edge.
All other cymbals are dual-zone. Together with the triple-zone cymbals, this feature will take you to the next level. You will love them.
The triple-zone ride is also a nice touch.
Why is Alesis a good brand?
One of the best ways to choose a great electronic drum set that will quench your needs is brand value. I am sure once you have top brands figured out, you can never go wrong.
Alesis is one of my favorite e-drum manufacturers. For years, the company has invested heavily in cutting edge technology, and now it competes directly with top brands like Yamaha.
Some of the features that perhaps a drummer may want to look at include:
Quality e-drum sets. Every electronic drum set that Alesis produces is aimed at serving a specific purpose for a particular level of drumming. And they don't disappoint.
Variety. What are you looking for? A beginner e-drum kit? Or a professional e-drum set for home recording? Well, Alesis has it all. This means you can never lack what you are looking for. They have taken care of every category of drumming experience.
Affordability. Compared to other brands in the same quality range, many buyers go for Alesis products because of the competitive price. But the prices never compromise their quality.
Experience. Alesis has been on the market for quite a while now. And for this reason, they have gained much experience concerning the needs of drummers. Besides, the e-drums are made by people who understand drumming; perhaps most are professional drummers too.
The release of the Alesis Strike Pro stands as one of their best works ever.  It has excellent strike performance and is an overall great electronic kit.
This kit was maybe inspired by the drummer's needs to have an electronic drum set that looks and sounds just like an acoustic kit. With this, they can easily transition between categories.
Alesis has been at the forefront of innovation. No wonder they have become very popular within the electronic drums ecosystem.
But have they achieved this goal? There are people who still worry about investing in the wrong kit. I was one of them before this review.
Therefore, the answer you are looking for is here. I always do my research before buying any item.
Sounds
There are 110 new drum kit presets made from 1,600 multi-sample instruments. The Strike is a better representation of the dynamic range. Stuff like rolls and drags are pretty impressive.
Sound is one of the most critical issues for an electronic drum kit. And I don't like most of them. But the Alesis Strike Pro is closer to what I call quality sounds.
The FX Engine could be improved. I don't like the fact that I could not add compression and EQ to the individual drums and cymbals.
Again, the Strike Module is not easy to use with the external VST instruments. They are quite tricky. I was able to get the mappings after several trials, but you cannot differentiate between the open and closed hi-hat midi CC messages.
But then, you can easily record your drums in a quiet setting. And I would say the module is pretty acceptable.
Best alternatives
One of the biggest issues I found with Strike Pro is the hi-hat. If this is an issue for you too, try out several options.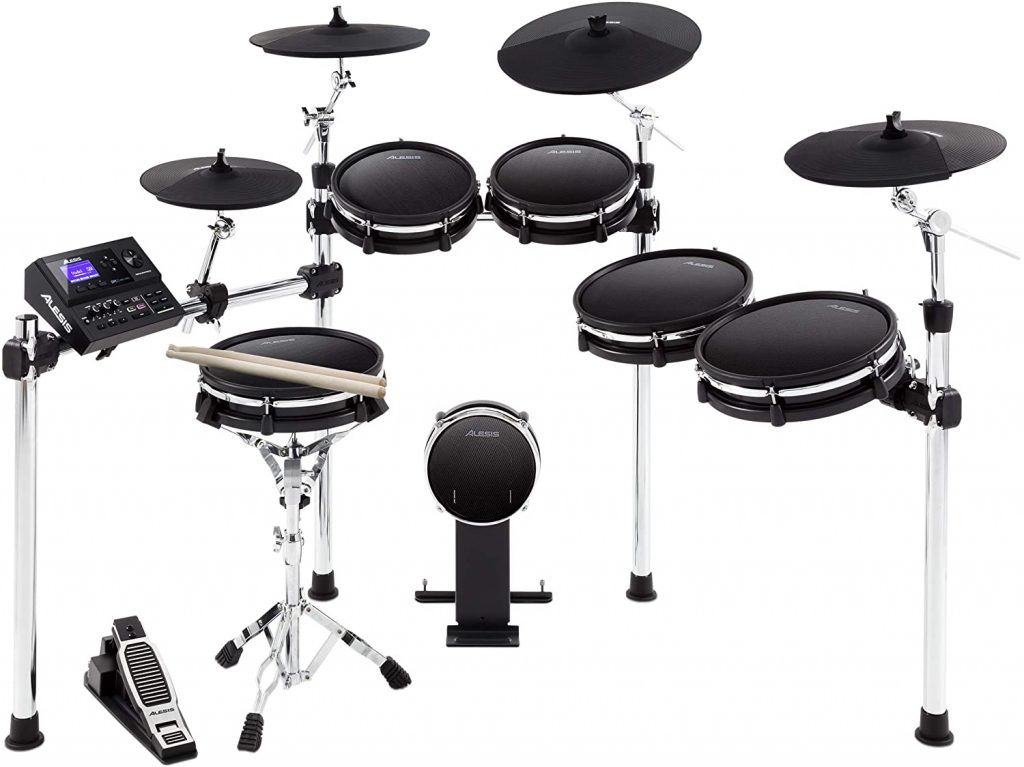 It will be a great idea to go higher on the ladder if you want something from Alesis. But if you are running low on budget, the Alesis DM10 MKII or the Surge Mesh Kit might be what you are looking for.
Also, the Roland TD-30K can be a good choice, though more costly than the Alesis Strike Pro. In that case, the Yamaha DTX562K carries the same price tag as the Alesis Strike Pro.
My verdict
I like the Alesis Strike Pro kit, especially considering its price tag. And am sure Alesis will continue working to resolve the issues it does have with the Alesis Strike Pro. Perhaps they could have a solid firmware update. Once done, this kit will be the top of the market.
I would recommend it to a beginner. But this is subject to whether you would like to drop the electronic drum kits in the future.  The Alesis Strike Pro isn't exactly "revolutionary" but it will satisfy the needs of most drummers. Therefore I would recommend the Alesis Strike Pro to beginner and mid-level drummers.
This Alesis drum kit is by far worth the price.
This post is also available in:
Italiano