Most people know of the conventional drums found in most parts of the world, but few people will understand when you talk about the congas. But for the more significant part of the world who do not know much about congas drums, relax and let me share some knowledge on conga drum with you.
Factors to consider when purchasing Conga drum
They are some main features you need to consider when or before purchasing a conga drum. These will help you in making the best decisions while choosing. Visit this page if want yo know what is a conga?
Cost
The price of the best Congas you purchase should go with your budget. But the best thing is always to avoid those products with low prices because their quality might be reduced. The conga for sale should be of the highest quality.
 Type of material used to make the conga drum
Material used plays a crucial role in your choices. You should always choose a product made of good quality material to achieve the quality sound.
Size
The size of the drum affects the type and quality of sound produced. Thus, according to the type of work you want then go for the correct size
Reliability and durability
The drum purchased should always be available and correctly working at the time of need. It should also last for an extended time. This drum helps you reduce unnecessary expenditure on drums.
Best Model for the modern conga drums in 2023
With the advancement in technology, most conga drums have been changed to suit the current needs. Thus the model used back in those days is not the same as the current. Significant changes have occurred.
The modern conga drums possess wooden or fiberglass and a drum head screwed onto it. This conga is about 0.75 meters long and might be played while a player is seated.
The drums can be fitted to racks to be played while the player is standing. With the conga drums reaching various parts of the world, most of the names used in ancient times, such as Rumberos, Congrueros, Tumbadoras, have changed also.
Who makes the best congas in 2023?
Making a fantastic conga drum is not a walk in the park. It has to give out the top cream sound so that you can be crowned the best manufacturer of the best conga. Here are the best Congas in the world and their manufacturers.
If you are planning to start drumming, then this is the best set for you. One amazing thing with this conga set is that its price is affordable while the drum itself is of high quality.It is a beautiful set of two conga drums with 9 and 10 inches' diameter with a height ranging between 30 and 42 inches. You can play this set of conga drums while seated or standing because there is room for adjustments. The best congas don't require setting up because it is sold while it is ready for work. The conga set is a bit smaller; thus, it can be used to teach young children.
These congas are made from quality woods; thus, it is an affordable and quality product. The set is made up of drums with dimensions of 11 inches and 7.5 inches' diameter. Hence the size itself is perfect. This site does not produce a very high pitched sound; thus, you cannot annoy your neighbors with a lot of noise. With this size, you are assured that it can fit appropriately into the allocated space. It is so good for practice at home.
This set of conga drums is useful for professionals and is a bit more costly than the two discussed above. The drums' wood shells are made of plywood and consist of three different and unique colors. This type produces a variety of sounds; thus, there is room mixing different sounds. One can use this type of drums in-studio, and therefore it can be a source of money. The diameter of these sets are 10 and 11 inches, and it comes with a stand for both drum congas.
Like Toca, this product is a set of drums with diameters of 10 inches and 11 inches. It has a stand that can be adjusted to suit your needs. It is the best wood conga that enhances sound quality sound that attracts the ear. It also comes in a beautiful color enhanced by the coating of black powder, which makes it look great and can impress your audience and family if used at home. It gives out the real value for your money because it can last for an extended time. It makes the player and the listener enjoy the type of sound produced.
MeinlPercussion hc512 consists of a set of two conga drums with 11 inches and 12 inches' diameter; hence there is increased surface area to operate. Also, it is 28 inches tall and comes in a variety of beautiful colors that impresses the eye. They are made of the best and good sound quality wood, which guarantees you durability. Unlike the rest with stands, this one comes with baskets for holding the drums; thus, they are more stable while playing than the rest. With the baskets, the drums can never fall and get damaged. It is well suited for professionals because it requires tuning to a desired sound and pitch. Wooden drums are the best for high pitched and quality sound; thus, this is the best choice.
This conga drum is yet another fantastic product by Meinl. This company continues to produce high-quality products. It is well designed with great simplicity and has an excellent look. It is up to 30 inches tall and is made of plywood which requires regular tuning like the traditional Afro-Cuban congas drums. Its thickness and sound make it more wonderful at all times. Lugs are 8mm and are of high quality.
Latin Percussion is the best conga drums for every professional player looking forward to impressive performance. It delivers remarkable sound quality. It is heavier and thus guarantees stability, power, and solid sound. It is made of quality wood, that is, American Ash wood well-crafted for best results giving the best wood shell. Well designed with side plates and three bolts and is well furnished to impress the eye.
Drum rawhide head is 12 inches in diameter and is much excellent for tuning. Its rims are high quality; thus, they cannot bend, and they are always stable.
These types of Conga drums are bought when they are ready for use fitted with chrome plates and stand to support it. It is 28 inches high and is made of the best quality wood, that is, soam oak. The drum is much durable because it is coated with black powder, which also makes it attractive.
The soam oak used in making this conga is dry to ensure that it is not much affected by changes in weather conditions. There is excellent comfortability in playing LP because of its curved surface and is made perfect by the natural rawhide heads well tucked. This conga drum is easy to tune and can be operated by everyone, including beginners.
Cannon is another beautiful set of congas drums rawhide heads with diameters of 11 inches and 12 inches and 28 pounds. Its entire size is 28x12x18.75 inches hence big enough and has an excellent surface to work. With these congas drums, you are guaranteed of the best performance that impresses your audience. It stands tall enough to give you high comfortability while playing it. It is well polished with natural wooden paints, thus making it more attractive. Moreover, it is made of soam oak wood, which is a long-lasting wood shell and gives high performance. It is much affordable; hence you can go for it at any time.
Remo company is the manufacturer of this fantastic drum. It is an exotic type; thus, its price is a bit higher than the rest. Its design will surely impress you because it is sharp and smooth, making it attract the eyes of your excellent audience. The conga drum head is made of fiber skin that makes it durable, persistent, and versatile. Besides, the rim is well fitted with round chrome side plates, making it more durable. It is the most well-designed type of conga drum ever. Because of its fantastic design, the product is among the most expensive of all. They are three in total, thus can be used to produce a variety of quality sounds. Remo is the real definition of quality, and every drum player yawns to have it.
It is yet another LP product quality product made of soam oak wood. It is only one drum with a shoulder strap that makes it easy to carry while playing. It is much prettier because it is well furnished; thus, it is a real definition of beauty. The wood used to make it is well dried to give great sound, to withstand adverse weather conditions, and to make it last for an extended period. Its original appearance cannot be easily lost; hence it will remain impressive for a long time. Its curved rim enhances comfortability while playing; thus, you are assured to enjoy playing it. This type is more of a professional one, and the price will surely impress you. Go for it, and you are assured you won't regret having it. It is because of the decent and quality sound that it will give your beloved audience.
Another amazing conga set from Meinl is here. They come in a pair that produces a warm and authentic sound that you have never heard. Professional drum players commonly use it because of their prices. The sound quality is impressive, and every percussionist entirely agrees with this. The conga set of drums are 10 inches and 11 inches in diameter. The shell is made of rubber and wood; thus, durability is guaranteed. The rims and tuning lugs of this conga are of remarkable quality. They produce a wide range of quality sounds and are well polished with black powder. This set comes with a basket that makes it easy to support and make it easy to assemble.
This conga set is an excellent product that comes with a beautiful and adjustable stand. This pair of conga set drums are sized 10 inches and 11 inches in diameters. The soam oak used to make this congas drum tells you the type of quality you are looking for. The shells are much durable and can withstand adverse weather conditions. It produces a wide range of beautiful sounds, thus suits a variety of music that you need. It is among the products that make the Latin LP among the best instruments manufacturing companies. It is real value for your money, get it, and enhance great professionalism.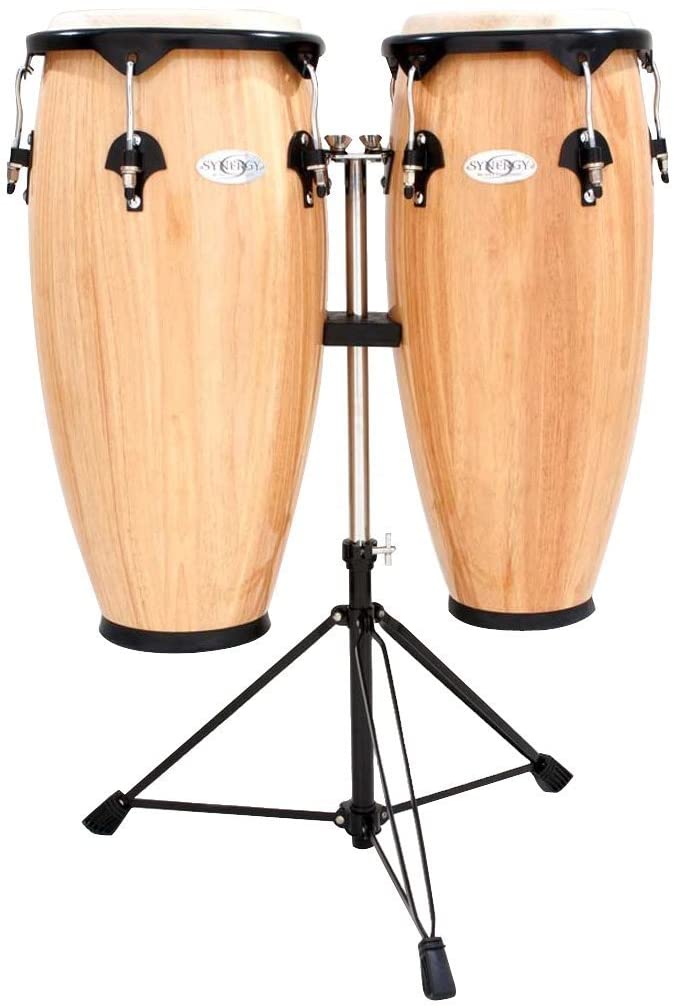 They are made up of 10 inch and 11-inch diameter drums. It is the best congas if you are in budget mode and is much excellent for beginners. It is made of plywood shell, thus delivers authentic sounds, and the rawhide drums are made of natural. They are fantastic for live performance and studio recording. They are made of lightweight material, thus making them easy to carry while performing. These congas drums are well built, beautifully made, and produce musical and warm tones. It is top quality, but their prices are higher because of the great beauty they give. It is lovely and fit for professionals also. The quality of this fantastic product impresses every drum player.
Final thought
Having known that much about best conga drums, I know you can now go for the best. Likewise, you can make wise decisions when purchasing this type of drums. If you had passion but did not know the type of best conga drums you need, then it is the right time to build your career with these beautiful products.