There are very many drummers who have left a legacy as the greatest of all time. But perhaps there is none as good in creativity as Ahmir Khalib Thomson, known professionally as Questlove.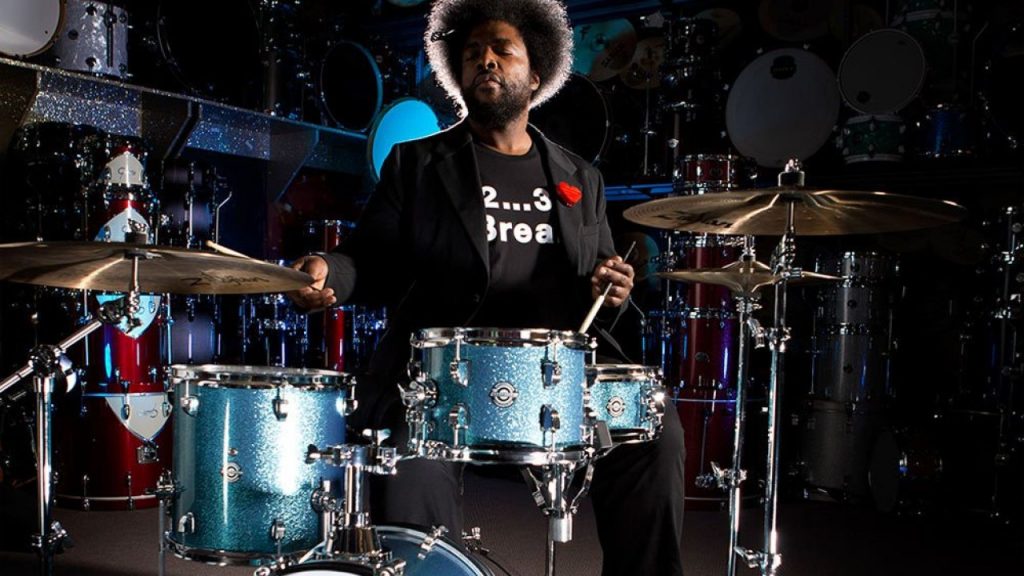 He is an American musician and music journalist with a huge footprint. Questlove is best known for his drumming with the hip-hop band Roots, a band that has been serving as an in-house group for The Tonight Show Starring Jimmy Fallon since 2014.
He is also one of the producers that worked on the cast album of the Broadway musical Hamilton. He is also the co-founder of websites Okayplayer and OkayAfrica. Apart from that, he also works as an adjunct instructor at the Clive Davis Institute of Recorded Music at New York University.
In simple terms, Questlove is not just one of the best drummers; he is an inventor. He wants everyone to have his knowledge about drums, which has helped shape the industry on very many levels.
He even has his own line of drum kits made to make a drummer's life easy. Because of constant traveling on tours, he realized that drummers were having a very hard time carrying their gear around. Hence, he designed smaller kits that would be easy to carry and can fit in any position.
Questlove is one of those people you can call musical geniuses.  And this is why he has produced records for artists like Elvis Costello, Common, D'Angelo, Jill Scott, Erykah Badu, Jay-Z, Nikka Costa, and many others. His most recent projects were with Al Green, Amy Winehouse, and John Legend.
All these are big musicians known all over the world. And perhaps now you know they are great because Questlove is working on their projects. As if that is not enough, Questlove is also a member of production teams like Soulquarians, the Soultronic, and the Grand Negaz, among others.
Skills
As stated above, Ahmir Thomson is a musical genius who takes on many roles. He is a superproducer, a polymathic actor/raconteur, a talk-show bandleader, a musical consultant in Broadway, and a celebrity. But he could not have gotten this far without being, most importantly, a wickedly versatile drummer. 
His playing has consistently been above the expectation of those he works with. Sometimes it seems as though he was born holding drumsticks or drumming for blood cells.
He is the one who ensures "live-band hip-hop," survived the jaws that were set skeptically against it when he released Roots' "You Got Me." Questlove's steady pulse slides into a simulation of the frantic backbeats he had been electronically stitching together.
Embracing technology is one of the reasons he has been able to remain steady and relevant all these years.
Considering his work with The Tonight's Show with Jimmy Fallon, you can tell that he is not motivated by money. He accepts it as a nightly challenge to explore more rhythms.
Guitarist Charlie Hunter says this is one of the best things about Ahmir. He only thinks in terms of a wider landscape.