Every drum company works day and night to get the best for their customers. Sonor is a German company developing the best drum kits suitable for all drummers starting from beginners to professionals.
The company has made several advancements to its drum kits, making it a competitive company in terms of quality. The Sonor's 3-series kit is made to the standard that you expected from Sonor. In an attempt to improve its quality, Sonor made an innovative combination of maple in the shells.
This is a thoroughly decent, well-appointed kit.
Good value for money.
Lack of adventurous shellpack options.
We have to ensure that the drummers get what they need and not what we think is right. Sonor has been in existence for a while now; thus, they know what you desire. The sounds produced by these drums are the real indicator of the work done by Sonor.
The good thing with Sonor drums is that they are not overpriced because they understand that we all have a tight budget. They give you a thoroughly decent and well-appointed kit at a pocket-friendly price and a kit that will last for generations.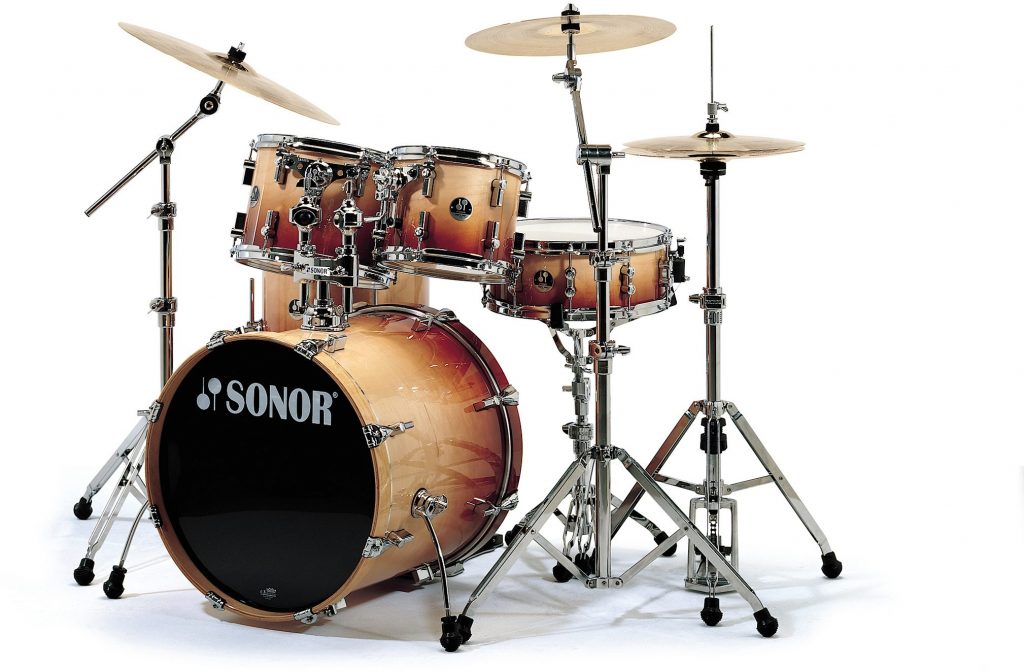 The Sonor Force 3007 kit is an improvement of the previous 3005 kits that is under the Force series' umbrella. The Force Series has four distinct lines; 507, 1007, 2007, and 3007. All the Force drum kits are a product of the Chinese Company's operations even though the brand is German.
Shell
The review drum set called the Stage One has 22 inches by 17 ½ inches bass drum, 14 inches by 5 ½ inches snare drum, 12 inches by 9 inches, and 16 inches by 16 inches floor tom. When it comes to Stage Two and Stage Three, they have different groupings of toms and floor tom with similar bass drum and snare.
On the other hand, the Studio kit has a five-piece set up with the 22″ bass drum swapped for a 20″ x 17 1/2 " model. Sonor's shrunken jungle kit is successful and should be famous because of the concept of dance/jazz/experimental applications.
The jungle kit does not feature a snare set or hardware pack like the four Stage/Studio kits. The jungle kit is thus priced a good deal lower. The 3007 drums are a new model that is a sandwich of Chinese and Canadian maple, with the Canadian maple seen as a superior wood.
Sonor Force 3007 kit has maple shells formed from a central three plies of Chinese maple with two or three plies of Canadian maple on top and bottom, thus having a maximum effect on the sound. The bass drums are 7.2 millimeters thick and are made of nine plies of wood (Three Canadian, three Chinese, three Canadian).
On the other hand, the snare drum and toms all have a thickness of 5.8 mm given by seven plies (two Canadian, three Chinese, two Canadian).
Color and finish
The maple shells are available in different lacquered finishes of up to nine. A pair of new sparkle is among the available options. Another light-catching finish is the blue sparkle, which adorns the review kit. The shade of blue – more lighter, Royal blue than Navy gives the metallic filling to shimmer away.
Other finishes available include red and white, but red is a new finish. One other new finish is Midnight Fade, which is a blue to black fade. The drums are furnished in a Sonor maple shell hardware with lugs taking the beaters and Sonor's logo.
There is even distribution of lugs in each drum, with the snare and the bass drum sporting 10 per head. The tunesafe tension rods are attached to all drums hence making the drums resistant to detuning through playing.
The bass drums have swing-out spurs, which are elegant as they are practical. All the wingnuts are semi-circular in shape, making it impossible for anyone to confuse with other manufacturers.' The TAR tom mounts are unique for Sonor.
The toms are hung from a curve rail that attaches to two of the drum's tension rods. The TAR versions have a third stabilizing arm fixed to the shell. Hardware's contents pack two mini-boom cymbal stands, snare stand, hi-hat stand, bass drum pedal, solid, user friendly, and well-engineered.
Sounds
The drums have 2.33mm Power Hoops (the bass drum has matching wooden hoops), but the kick drums may lack the hoops. Remo's heads are fixed across the kit with dampening rings in two bass drum heads. The rings are efficient in giving the bass drums a controlled, slightly dryish sound.
Without being uncouth, this drum kit has loud and forceful required sound. This is a versatile drum because it remains with focused sound and can produce a rumbling note and low depth. The reduced depth of rack toms enhances swift, clean responses with no overtone present.
The snare is more lively than the toms or bass drums and requires dampening to show its defined side. The drum is much sensitive across the head hence giving a quick and faithful response.
Sonor Force 3007 is at the top of the Force Series that features 2007, 1007, and 507. There have been no changes to the 3007 drum kit, but now it has new finishes. There is a new Rock format of our review kit with a traditional four-piece; 12″ x 8″ and 16″ x 16″ toms, 14″ x 6″ matching wood snare, and an oversized 22″ x 20″ bass drum.
Build
This kit is made in China, but it features 7-ply clear shells with outer and inner plies of Canadian Maple. The bass drum's thickness is 7.2mm with 2.4mm of Canadian maple inside and outside a 2.4mm Chinese maple core.
The toms and snare of Sonor offers a thickness of 5.8mm with 1.7mm Canadian maple all-around a 2.4mm Chinese maple core. The toms possess an Ambassador style batters and resonant, while the kick drum has a Powerstroke 3-style edge-damped batter, which is coupled with a fully intact logo head to the fore.
The single-chain drive bass features a direct tight feel, so the plastic beater offers a strong wallop. An adjustable toe stop and the broad base plate have a complete, non-slip, and ribbed rubber underlay.
The jaw clamp features a plastic grip to protect your bass drum hoop, while the matching hi-hat has a swivel footboard to enhance positioning, especially when you are using a double pedal.
A cleverly made click-stop tilter knob helps in twisting the angle of the bottom cymbal. A similar thumb grip knob offers adjustment of spring tension, while the pull rod ensures the cymbal is clamped more securely because it is hexagonal.
The snare stand features a gear-angled basket, which is slightly offset from the central post, making positioning simple. 
Hands-on
The latest version of Sonor drums now has shallow, quick toms. The toms with this kit are classic sizes; 12 inches by 8 inches and 16 inches by 16 inches.  When it comes to bass drums, they need to be super-deep because the toms are shallow.
If you bury the beater, there is a little kickback, and the note is so deep with no awkward high overtones to damp. Most snares are five and a half inches deep, but we have six and a half inches with this kit.
The drum features a crisp maple tone suitable for most music genres, from rock to jazz. Several drums have a dead spot in the middle, but this one is bright and responsive in the middle.
The tension knob is too small, but the drum has a neat, hi-tech looking black plastic throw-off with a comfortable lever. The snares can lie flat because of the protruding butt end from the shell. The 6 inches deep snare and the 16 inches floor tom are matched with a big bass drum.
This kit can be easily tuned because they have an extra grip, and it does not vibrate loose under a massive assault. 
The Sonor drums are designed with different maples from different countries. The maples used must be of high quality to ensure that the drums are durable and produce high-quality sound throughout their lifespan.
The maples used to make shells of Sonor Force 3007 are Canadian maples and Chinese maples. But the maple plays a significant role in the Canadian maple. They both work exceptionally well to produce the best sounds of Sonor Force drums.
Conclusion
With Sonor Force 3007 drum kits, you are guaranteed long-term performance. The kit will never let you down as it has been passed through the hands of outstanding artisans. Thanks to this greatest Sonor Force Series that can be shipped for free. It is available at affordable prices in different online shops. Get your drum kit today, and enjoy the best performance ever.