The world of electronic drums used to be a two-horse race with Yamaha and Roland. Today, however, things have changed since Alesis joined the race offering more affordable solutions.
As such, Alesis may no longer be a stranger. Over the past few years, their drums have become very popular because they are budget-friendly. 
It comes with features suitable for first-time players and home recording studio
The mesh as very silent and come with DAW connection
Suitable for home practice without disturbing a neighbor
The most affordable mesh alternative
The hi-hat is not mounted
It is not very great on playability because of the controller pedal.
The latest iteration is the Alesis DM10 MKII from the DM series. As much as it is one of the best products today, many people find it confusing because it comes in seven different variations. 
In this case, I will be focusing on the general overview of the DM10 MKII.
Is the Alesis DM10 MKII Pro different from the Studio?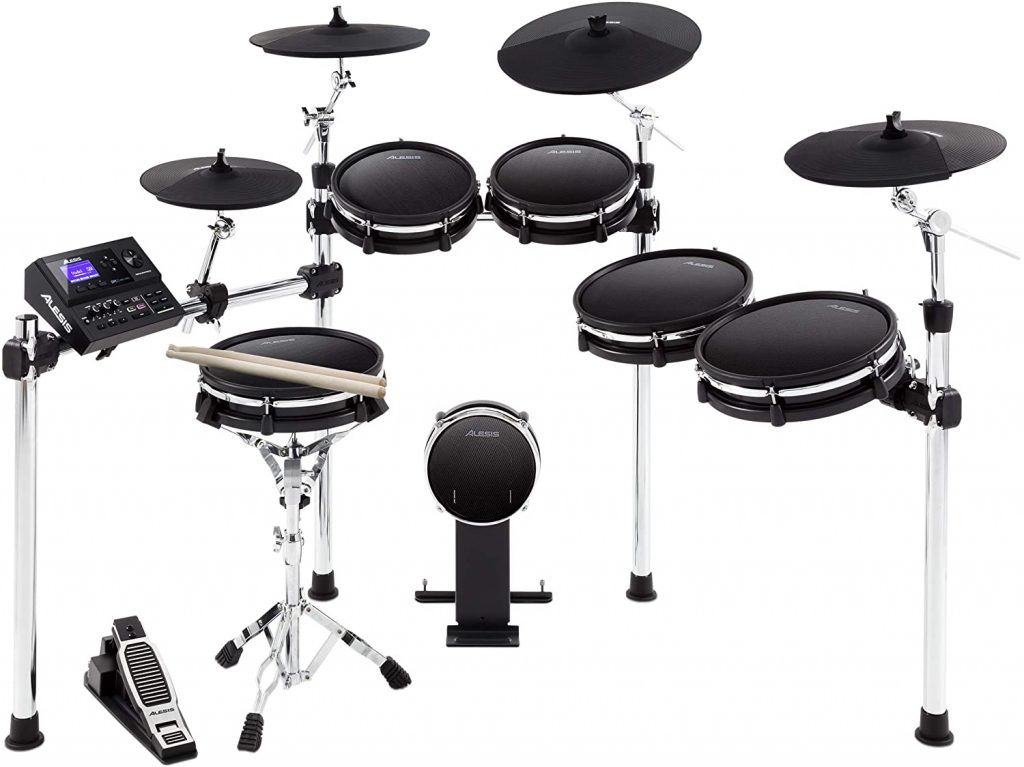 The Alesis DM10 MKII Studio and Pro are both designed to offer drummer the something more than just practice. The kits are built for drummers in need of studio recording as well as during live performance. Hence, they are designed to meet the needs of working players.
While both are incredible, it is important to note the difference they come with, especially in terms of configuration.
The Studio kit comes with a 10-inch snare, two 8-inch rack tomes, one 10-inch floor tomes, and one 8-inch kick drum. It also features two 12-inch crash cymbals and one 14-inch ride cymbal. It also includes a hi-hat measuring 12 inches. These components are connected by the DM 10 MKII Studio sound module and a four-post quick-lock chrome rack. 
On the other hand, the Pro Kit is contrary to the kit above. It comes with a 12-inch snare, two 10-inch rack toms, two 12-inch floor toms, and one 8-inch kick drum. The cymbals include two 14-inch crash, one 16-inch ride, and one 12-inch hi-hat. It also features the same quality of four-post quick-lock chrome rack contained in a studio kit. In addition, the snare is fully adjustable on the stand, making it wonderfully compact. 
As you can see, the Alesis Pro comes with an additional number of floor toms and a different module. Also, it is a better snare stand than the Studio.
The other difference may not be fascinating, but the module is. When the drum set has more drum pads, you can enjoy playing a more versatile setup.
However, let's not forget that every feature of an e-drum set relies on the module. Hence, depending on your purpose, you need a module that meets your needs. 
Another important thing I will not forget to mention is the visual impression of these two versions. They are both outstanding. You can always feel the energy of the drum stand behind an Alesis kit. The brand has tried to keep up with modern technology and ensure customers get what they want. 
Top features
This drum set is amazing, and because it comes out with a lot of different features, We created this amazing Alesis DM10 MKII User Guide that is worth checking.
The module 
Alesis Dm10 Mkii Control
I cannot deny that lately, I have been really impressed with Alesis modules. Since we started seeing electronic drum sets, I have always been a loyal Roland fan. But Alesis has started attracting my attention with their innovations too.
To say the least, modules on the Studio and the Pro both come with highly functional tools. They will help you become a better drum player within a short period.
Also, you may love to know the sounds of these modules are made ready for studio recording. And I believe that is all that matters in an electronic drum set. 
You get 54 preset drum kits onboard the DM10 MKII Studio. They are magnified by the 671 inbuilt instruments, making it possible to achieve performance like no other.
On the other hand, the Pro pack comes with 80 units, presets, making it bigger and better. That is not all; it has100 play-along songs and 700 sounds mixed between drum, cymbal, and percussion sources.
Despite the difference, these modules are both very functional. They offer a function for users to adjust each individual sounds. In other words, you can reverb, pitch, and muffle, among many other features. This is a critical consideration for serious players as it allows them to customize their sounds. As if that is not enough, a player can use these features to build an incredible sound mix.
Another thing I loved on these modules is the inputs. They come with a 1/8- inch stereo jack. This allows you to connect your favorite audio outputs, include headphones and speakers.
There is also a USB connection for those who want to use customized sounds. This connection can also help in recording your favorite tones.
The MIDI connection on the DM10 MKII lets you connect your computer. This is an important feature for triggering virtual instruments. You can use it to add more sounds from your library or download it directly from the internet.
Drum and Pads
Alesis Dm10 Mkii Cymbal
We have already talked about the two versions above. But here, I would like to focus on the Pro kit. It comes with six pieces with bigger drums than most in this price range. The snare comes bearing 12-inches in diameter, and it is a dual-zone. You can vary sounds by either playing the center or working on the rims.
I liked the playable rim shots and clicks. This is not a feature you will find in most entry-level drum sets. The size makes it close to an acoustic set size, which brings out a better feel when you play. 
And since the snare gives you more room to work around your playing, it is easier to improve your playing than you would in the Roland TD-11K, for instance. This kit has a small 8-inch snare, which can be quite disappointing.
Like I said in the beginning, Alesis has found a way to make entry-level drum incredibly interesting. Whereas other manufacturers make higher-end gear, they have focused on improving things down here.
You may also want to note the adjustable stand that comes with the snare. Many drummers have welcomed with the addition of a smile because it is something you only find with higher-level products. It is, therefore, more playable and more stable. 
I like talking about the snare because it is the most important piece of a drum setup. And this why the DMK10 MKII is an incredible piece of drum hardware.
Apart from the snare, there are also two 12-inch floor toms. They come mountable on a rack, making your drumming experience worth your investment worth it.
The tom pads are also dual-zone with is another added advantage in terms of producing expressive music. If, for instance, you are looking for auxiliary percussion sounds, you can easily play them. It is all about compatibility and portability. 
The two front toms don't disappoint either. They are smaller than the snare and the floor at 8-inches. Yet, they still sound standard.
The bass pad is also 8-inches in diameter. And it is mounted on a solid bass tower that offers incredible strength. It is also fully tensionable and features supporting spikes. This makes it easy to position the pads on a mat, or otherwise on the floor surface.
The kit comes with four cymbals with the size mentioned above. This makes them feel right when playing. Under half of the cymbal, the surface can be played. This is a feature for many electronic kits' cymbals.
The ride comes with three-zone triggering. It has the bell, the bow, and the edge. With this feature, you are sure to get some wonderful dynamic playing. They feel good when you play, and the size makes them more realistic.
The free-floating pedal works as a hi-hat controller. It works with the same application as a hi-hat stand on a traditional setup. 
There is a wide range of hi-hat playing functions. Whether open or closed, every application creates a wonderful output. And if you want heel splashes or 'chick' you can easily play them.
About the sounds
Alesis Dm10 Mkii Input Output
Alesis has upgraded the DM10 KII Pro module. Now it comes with the same features as the classic DM10; only it has several adjustments. 
For instance, there are 50 built-in presets kits with space for 30 customized additions. And creating kits for this module is pretty basic. You only select the sound you want to work on, the change whatever you want using the control features. Once you set everything ready, save it and move to the next. 
You get more than 700 sounds on the module, which is way more than what other kits can offer. For someone learning drums, this one of the best things you can ever ask for. You can play-along your favorite pieces as you learn different playing styles. 
Other features 
There are a few other features on Pro that I think you will want to know. For instance, the module comes with a built-in sequencer. This feature carries 100 onboard patterns for playing along. It lets you adjust the tempo of each track to train on your speed and time. 
Also, there is the MIDI-USB connection for importing your customized tunes. This feature lets you upload WAV and MP3 files for easy and natural playing.
Alternatives 
It is understandable if the Alesis DM10 MKII Pro kit does not sit very well with your needs. In this case, you may want to consider some alternatives.
The Roland TD-11K comes with the same setup, quality, and price. It is, therefore, the most immediate recommendation you may get on the market.
Even though the Alesis come with better hardware, the Roland sounds better; hence, it may be more satisfying. Besides, the Roland is a bit cheaper. 
Yamaha Dtx562k Electronic Drum Set
Another great alternative is the Yamaha DTX562K. As you may already know, Yamaha is a reputable brand in the electronics industry, more so, e-drum. The DTX562K is a bit expensive, but it comes with the advantage of Yamaha's real hi-hat stand as well as a mounted hi-hat pad. Together with the clutch, these are important features the DM10 KII lacks. 
This is an entry-level kit; hence there is nothing much to expect from it. Besides, it comes with smaller and fewer pads compare to the Pro. Nevertheless, it sounds great. 
This depends on the version you choose. There are seven of them, so you will have to do thorough homework. Nevertheless, many drummers have recommended the Alesis DM10 MKII for its affordability, larger pads on the Pro, and all mesh pad. These are features you only find on higher-end products. 
Conclusion
Both beginners and experienced drummers will find the Alesis DM10 MKII very useful for practice. That is an e-drum set that comes with everything you need to start playing drums. I hope this review has been helpful.