When it comes to practicing drumming, there is no better way that with quiet drumming. We all know that drums are naturally very loud. And this can be very difficult if you need extensive practice space.
Most beginners don't go far because of limited mobility and time factors. They can be a big hurdle for gaining the right experience necessary to become a good drum beater.
It is even more challenging if you move around a lot, or you don't have a dedicated practice place. And for those who live in apartment homes, your neighbors may not enjoy the loud noise.
Lucking, technology has made it possible to get a solution. There is a way you can make your drumming quieter so that you can practice anytime and anywhere.
In this article, I am going to introduce you to the best quiet drumming option in the market. I will discuss built-for-purpose quiet drums for practice.
Can you practice drums quietly?
The most straightforward answer is yes; you can practice drums quietly!
Wondering how?
Well, I am going to share a few tips I have found very useful with beginners. There could be other ways, but the ones I have highlighted below are only basic ones.
Use practice drums kits
There are many drum kits by different brands dedicated solely for practice purposes. And when it comes to practicality and functionality, nothing works better these drum sets.
And the best part is, there are light, highly portable, easy to set up the sound just as good as real drum. Hence, they can be all you need in perfect practice drums.
In many cases, they come in very basic designs. The normal drums come with hardware, including stands, screws, and other things that may take longer to set up. You may not have much space and time. The practice kits, on the other hand, are explicitly designed for easy set-up and portability. And one great thing is that the positions of the pads are pretty similar to a common drum set.
I always advise those looking for such drums to look for something simple. Consider features like portability and overall practicality.
One of my favorite kits is the DW Workshop Go Anywhere Practice Set. In this kit, everything is mounted on a single stand, which is really awesome in terms of space.
And even better, the kits come fully equipped with five pieces. This means it will only take you a few minutes to set up.
And don't think it is weak. Everything on this kit is sturdy and durable.
The drums pads are large enough to produce a wide range of sounds. Besides, they can easily adjust the position of each other.
But most importantly, the whole kit is very quiet. For this reason, you can practice anytime of the day and anywhere you like.
Another really good portable option is the Gibraltar Gp08 Powerrack Pad Outfit, which has everything you need for practice, and also it is portable.
It is an adjustable set, as you can regulate it and use it the way you like.
Drum Practice pads
Perhaps you have already come across the table-top drum pads. Sometimes even the practice kits above may be inconvenient. This is true, especially if you move regularly. You may need something that can fit in your luggage.
In that case, what you need is the practice pads.
The most significant benefit of these items is their portability. They are better than practice drum kits. You can even carry one in your backpack, and no one will notice.
They allow you to practice anytime and anywhere. And the best part is that they are quite affordable. For this reason, they should be essential items for every drum player.
When I say they are pretty simple tools, I don't mean they cannot perform well. Today's market is full of various types, with varying characteristics and features. They come in different sizes, sounds, surfaces, and overall versatility.
The most basic pads come with just one or two surface types. But the most complex ones can have several different surfaces.
Consider the Evans Realfeel, for instance. It is a typical item with a double-sided pad in two dimensions, either 6-inch or 12-inch. The larger one is more convenient in terms of experience and sound. Yet, the smaller one is better for traveling. Each has two sides, with different tonal variations. Each side is built with different materials for more or less rebound.
They are simple tools, but quite effective for practicing. It is a popular kit among many drummers, including experienced ones. You can use it by yourself, practicing wherever you wish, with varying complex techniques. You should consider playing on a metronome if you are choosing this pad.
And for those who need something more complex, I would recommend you try on the Drumeo P4 Practice Pad. It features four varying surfaces on three levels. It is more practical because it gives you the feeling of an actual drum set.
Quiet Acoustic Kits
Playing quiet is among the best way to get the necessary experience as a drummer. And besides, many drummers, like me prefer to practice on my own acoustic drum set. But noise is the biggest issue, especially for those who live in a place with many people.
The good news is, drummers are innovators, and they can always find a way to get through challenges. Many have used different muffling methods to mute the drums.
Many improvisations can silence acoustic drums. Only that now they will not give you the best experience. Things like muted drum heads do not inspire great drumming and that can put off many drummers from their routine practice.
But technology is improving things by the day. As such, we are getting better methods of reducing sound on acoustic drums. One good example is replacing the drum heads with Silent Stroke drumheads.
You can also do the same on with the cymbals. Low volume cymbals are just perforated hardware. Some manufacturers use special kinds of coating to make them quieter. Significantly lower pitch and shorter sustain cymbals are more practical and quieter than regular ones.
Electronic Drum Sets
If you are looking for a more complex practicing kit that will give you the experience of real drumming, electronic kits are the best. Besides, there are professional high-quality electronic kits used in real gigs. This means they are not only for practicing.
Companies like Yamaha and Alesis have invested heavily in this technology. You can get a full kit with drums, cymbals sticks, and hardware.
For instance, Yamaha DTX400 is one of the best starter electric drum set in the market. It has foam cymbals, mesh pad an everything you need to practice at an affordable price. It does not have a proper kick pedal set up, but you can start practicing if you are a beginner.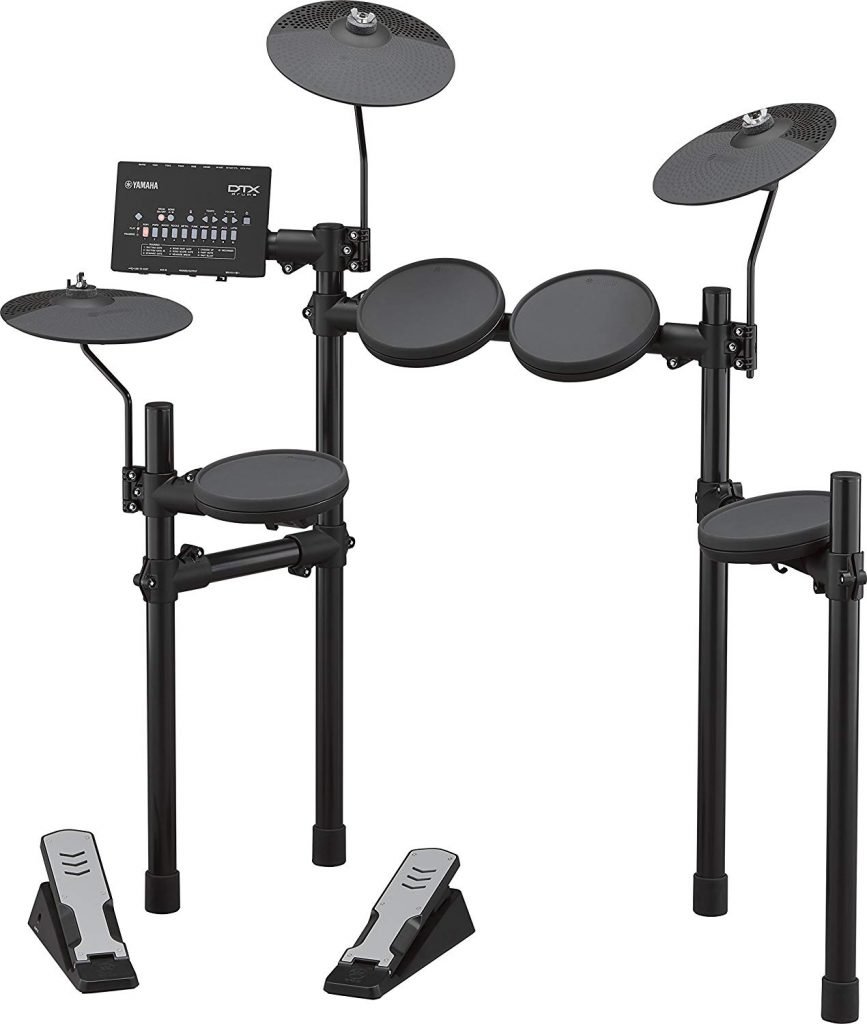 A really intermediate/advanced model is the Alesis Nitro Mesh drum set, that has mesh drum heads that mimic the feeling of acoustic drums while remaining quiet and a complete monitor to change sounds and create different and dynamic sounds. This model is really good intermediate one.
All these models come with headphone jack connections. With this, you can use the drums in your room without anyone noticing what you are doing. It is only you who hear the music, but the other persons will only hear a soft thud if they are close enough.
Most electronic drum sets are also very portable. Though not as portable as practice pads, they are an excellent alternative for quiet drumming. Besides, a high technology electronic kit will give you the same or even better experience than acoustic drums.
Soundproof your room
If you think the sound is the only thing that is keeping you from proper practice, then perhaps you should soundproof your room. Whether it is in your bedroom in the garage, there are easy steps to insulate your space without spending a lot.
Common materials used in the construction industry can be used for this exercise. Consider, for instance, the weatherstrip tapes used in insulating door and window. There are also fiberglass curtains and panels for doors. Soundproof curtains are used as a solution for windows, and they can be a good starting point.
There also several materials that can be used in wall insulation. For instance, the familiar acoustic foams used in studios. They can keep your walls fully soundproof, letting you drum as hard as you want without disturbing your neighbors.
Also, a few materials used in the construction industry can be a great way to keep your walls clean. Some of them are quite cheap yet efficient.
Playing drums quietly is a great way to become an experienced drummer without much trouble. Not everyone likes noise; hence you need to keep things to yourself.
There are more ideas you can apply to. But what I have shared above is common with most drummers. Hence, it can be a good way to start.
How Effective are Drum Mutes?
In addition to the methods mentioned above, you can also consider drum mutes. They offer the quickest and most convenient way of reducing drum volume.
Drum mutes are simply soft rubber ads that a player can put on the drumheads. Instead of directing hitting on the drumhead, the drummer beats on the mutes. They absorb the sound while letting you feel your drumming.
Drums are naturally very loud, and they don't a volume control button – apart from electric ones. Hence, drum mutes serve as volume controllers. One good thing is that you can remove them when you want to play at full volume.
Drum mute works quite well in eliminating drum noise. One of my favorite mutes is the Evans SoundOff drum mutes. They come in packs so that you can set your kit more easily. Some come separately, but they are still pretty easy to use.
Drum mutes can reduce the volume of your kit by about 70%. This is enough to keep you practicing every hour without disturbing your neighbors. If you live in an apartment and practice from here, sound can travel through the floor and thin walls. So keep this in mind.
Apart from the drums, there are drum mutes for cymbals. These will keep your cymbals low. Therefore, when buying the drum mutes, get some for your cymbals as well.
One of my favorite solution to mute cymbals and drumheads are the Vic Firth Practice Pad, because with one shipping you get everything you need to sound proof cymbals and drumheads, so you can start practice straight away.
The main reason why many drummers don't use mutes is that they don't offer the same feel as hitting real drums. They don't give the rebound rate needed for maximum drumming experience.
But looking on the bright side, they will help you build your strength and playing speed. After all, you will be relying more on your muscles and technique than on stick rebound.
The bass drum mute system of these mutes is quite amazing. I find them better built, with good quality rubber on the pads themselves. Above all, they are extremely functional in making drummer quieter.
Why are Drums so Loud?
Drums can be loud. And there are several reasons for this:
They don't have a volume control knob; hence they just sound loud.
The harder the drummer hits, the louder they sound. Hence they depend on the strength of the drummer.
A drummer can play very softly for sound-check. The sound guy can mix this to a reasonable amount. But when the crowd comes in, the drummer may get excited and hit harder.
The type of music contributes more to the sound of the drums. For instance, hard rock encourages competition between the drums and other equipment like guitars.
Conclusion
Even though the drums are quite loud, you can still improve your drumming skills from anywhere. Hence, the importance of quiet drums cannot be overlooked by any drummer. With the tips I have shared above, you should be able to get the best out of your drums.