Bands have ruled music history for multiple decades and for all the right reasons. Of course, seeing musicians come out with solo albums is an experience, but you can't deny the popularity of singing groups in the rock band Genesis. Phil Collins, their drummer, is one of the drummers who sing in the industry.
However, among many singing drummers, which ones do you think stand out as a part of the top 10? You have these musical geniuses stand out while playing drums, and then you have them harmonize with the lead singer, and it's a whole another level of charm.
This article will explore some of the best singing drummers of all time, who are known for their lead vocals, backing vocals, and being famous as touring drummers.
Best Singing Drummers of All Time
If you are a music enthusiast, especially of the varying rock bands throughout the eras, you'd know how famous the band's drummer and lead singers are. In most cases, they are the ones that signify the proper melody and harmony within a band.
However, there is a handful of solo artists who also play drums. This part of the article will explore the top singing drummers that we think you should know about:
1. Levon Helm – The Band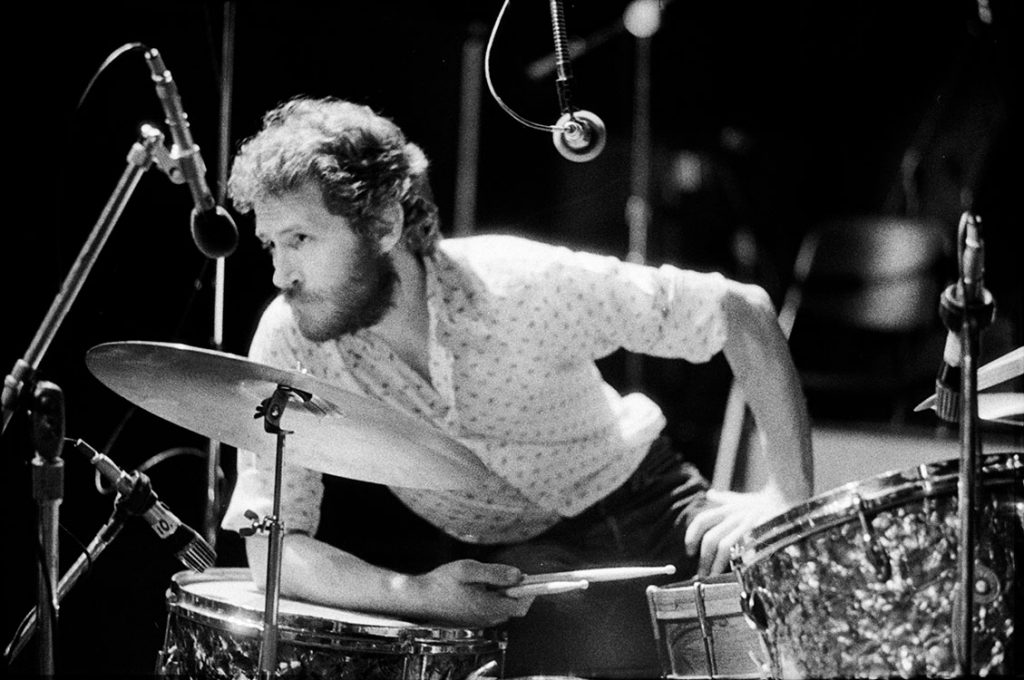 The Band is a leading name in the field of music. But, while this four-member group gained international success during their career, Levon Helm is one of those uniquely gifted musicians who were not just known for their drumming style but also for their vocal duties.
Besides the drums, Helm was equally proficient in playing other instruments like the Mandolin. In addition, his voice added a rustic authenticity and folksy touch to their discography, which took The Band to immense heights of success.
If you are wondering which songs explore Helm's proper vocal duties, we recommend you listen to "The Night They Drove Old Dixie Down" or "Up to Cripple Creek" as your first two song choices. His vocal skills are stunning, sharp, and an asset to the band.
2. Phil Collins – Genesis
Another famous yet worthy drummer that sang lead in a handful of songs in the band is Phil Collins. His time with Genesis wasn't very long, but his vocal chops left an imprint on the band's overall discography.
When Collins decided to leave the band, the band was almost at a breakdown. That's how significant his place was in the band. His role was more than one of the lead vocalists. With his charm and aura, Collins became Genesis's face very young.
The transition from artful grunge-type music to pop-esque music in Genesis was all thanks to Collins' influence and time in the band. His natural stage pressure made him more than a band's drummer and a backup vocalist.
3. Don Henley – The Eagles
Every music enthusiast has at least listened to one Eagles song during their lifetime. And as a co-lead vocalist, Don Henley showcased his drumming skills and vocal range simultaneously with the band.
Songs like "Witchy Woman," "Best of My Love," and "The Long Run" wouldn't be what they are today without Henley's smooth vocals. The subtle southern accents, paired with his style and charm, made him an icon remembered today.
4. Grant Hart – Hüsker Dü
Not every band that has a singing lead with a successful drummer is a well-known band. The same applies to Hüsker Dü. The band was, by no means, small, but they had a very selective audience and fanbase.
However, while discussing some famous co-vocalist cum drummers, we knew we had to include Grant Hart in the list. The speed-punk music genre, paired with solid vocals of Hart, led the band to soar success in no time.
It was Hart who formed Hüsker Dü, so in a way, he is one of the three lead vocalists and the frontman of the band.
5. Roger Taylor – Queen
When you listen to Queen, Freddie Mercury is a name everyone resonates with. He was the frontman and a legend. But Roger Taylor on the drums and his vocals deserve a special mention in the list too.
His contribution and voice range in the leading single, Bohemian Rhapsody, is celebrated today. His clean vocals have also placed him on center stage.
Besides Bohemian Rhapsody, Taylor has lent his voice to other popular Queen songs like "I'm in love with my car," "Modern Times Rock," and "Father to Son."
6. Karen Carpenter – The Carpenters
While we are on the topic of discussing the best drummer lead singers, Karen Carpenter deserves a special mention. Songs like "We've Only Just Begun," "Close to You," and "Rainy Days and Mondays" wouldn't be anything if it weren't for her powerful voice.
Karen kickstarted her career as a drummer, playing the drums with her brother, Richard Carpenter. However, her crippling anxiety pushed her towards the back of the band instead of being the face of the rock band.
But unfortunately, the fantastic performer and drummer couldn't match up with the rising fame that The Carpenters started gaining with their songs and radio play. Later, in 1983, the singer succumbed to her death after a fight with her eating disorder and heart failure.
7. Micky Dolenz – The Monkees
Dolenz is another worthy mention in the list of the best drummers who are also lead singers in the band. Although he was a former child actor with no proper knowledge or understanding of music, he quickly learned the concepts.
Soon enough, Dolenz played drums with the band after they went on a sold-out tour. That's where his music career took off, and he has lived a glamorous life ever since.
Popular songs like "I'm a Believer," "Last Train to Clarksville and" (I'm Not Your) Steppin' Stone" are some of the gems that star Dolenz as a vocalist.
8. Aaron Gillespie – Underoath
While we were on the topic of popular music and bands, we knew we couldn't leave out Aaron Gillespie from the list. Although Gillespie was initially recruited as a drummer for the band, he later established himself as a lead vocalist in the band too.
Songs like "The Changing of Times" is a testament to his clean vocals and vocal range. He often sang as a replacement for the band's lead vocalist, Spencer Chamberlain.
Besides working with Underoath, Gillespie has also performed as a drummer with Paramore. He was never a full-time band member, but Gillespie never hid his talent during his time with the band.
9. Stefanie Mannaerts – Brutus
Not everyone is aware of the Belgian band. But, if you are aware of the Brutus band, you likely know who Stefanie Mannaerts is. Her distinctive and powerful voice is an asset to the band.
However, Mannaerts career took off when she performed at the "Refused Party Program," which was a tribute to the famous Swedish pop-punk band, The Refused. That's where she gained international recognition.
Songs like "All Along," "War," and "Cemetery" are some of the most popular songs that she has sung.
10. Ringo Starr – The Beatles
Names like Ringo Starr and Paul McCartney are the ones that changed the face of the rock music industry. During his time with The Beatles, Starr created an imprint on the fans. As founding band members, they made one of the most influential bands of all time alongside the other members.
Starr was a multifaceted artist with immense talent under his belt as a drummer and lead singer. In songs like "Yellow Submarine," "With a Little Help from my Friends," etc., the fans were mesmerized by his front and backing vocals.
His drumming style was also unique, so it wasn't surprising that he created a successful solo career following the band's end.
These are some of the leading drummers who have also accomplished singers in rock history.
Bands with Drummer Lead Singers
We have discussed some of the most popular drummers who sing in the section above. But, that said, you can't deny that it's one thing to be an accomplished singer and another thing to be a multi-talented jazz drummer and lead vocalist.
Artists like Roger Taylor, Brian Chippendale, Ringo Starr, Sean Austin, etc., are some of the names who are not just great drummers but also lead in the band.
If you are sitting here wondering about some of the best bands with Drummer Lead Singers, we have a few that we think you'd love to know about. Remember that we have covered many individual artists in the section above.
This part of the article will explore some popular bands where the drummer played lead vocal duties too.
11. The Eagles
Who doesn't know about The Eagles, right? Well, it was Don Henley's versatile talent that went on to take the band's popularity from the ground to the top. Songs like Hotel California, The Long Run, etc., are etched into the memory of every music enthusiast.
12. Genesis
Genesis was one of the bands with a singing drummer that paved the way for more in the future. Peter Gabriel was part of the band until 1975 and was the band's lead vocalist. It was following his departure that Phil Collins took his place. He played drums and was also a lead singer in the band. The live performances were a treat for the audience with Collins' talent.
13. Lightning Bolt
Brian Chippendale, a famous singing drummer, was part of the band Lightning Bolt. The noise rock duo band went on to garner immense popularity and a name among the mass of its audience.
14. Huge Pupils
Another underrated band that has the lead singer playing drums is Huge Pupils. Sean Austin not just plays drums but also sang lead vocals in some of the bestselling singles from the band, including the band's all-time popular song, Grilled Mind.
15. The Lucksmiths
When talking about lead singers who play drums, we knew we had to include The Lucksmiths too. Tali White, the band's drummer, is known for playing a very simple and minimalistic drum kit. However, besides the drumming style and skills, White is also known for their amazing vocals and pitch.
Final Words
And, with that, we have all you need to know about the most popular drummers who sing lead in the band and their solo careers. As music is evolving, more and more musicians are now branching out and learning multiple instruments. So, it won't be long until we have more bands with drummers as lead singers. But, until then, these are some of the OG band drummers who also sing lead vocals.